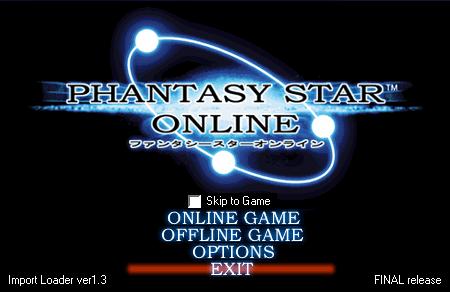 This program allows you to load the import version of PSO for PC without using a hacked autorun.exe. Just download it, and unzip it into your PSO folder. You can make a normal shortcut to it on your desktop, or just double click on it in the PSO folder. This will allow you to load PSO quickly and easily on a non-Japanese system without the "Not Support Language" error. It is not limited to English language systems only like the other alternative.
Version 1.1 fixes a bug where the loader accidentally resets your options.
Version 1.2 adds mouseover for the buttons, like the official autorun, and fixes a bug that may make your settings in the Options revert to a previous state.
Version 1.3 adds the ability to skip to the game in online mode. The game will NOT let you online unless you have the latest patches.
This is the last update unless the loader becomes unsupported in a future update to PSO, which I may or may not consider fixing.
---
Download - 53kb
---
Note: I am not responsible for any problems caused to your game by the use of this program.